SSC (shoes sole cleaner) is a professional entrance cleaning procedures solutions provider, since 2002. the sole owner of this patented technology.

SSC (shoes sole cleaner) are the global leader in shoes sole cleaning technology.
SSC located in Yantai, Shandong, China.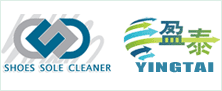 We have two brands:
SSC for Overseas market.
YINGTAI for China market.

We began to design shoes sole cleaning machine since 2002, with a very simple basic device, and we continue to improving it depending on the customers' needs. Till now, we created a very amazing shoes sole cleaner. it can save your door area space, its thickness is only 8-10CM, and it can be moved, the most important is that you may ignore it just walking on it as usual, the device wash your shoes sole with many brash belts under the box, in order to make it clean and no dust, we set a special spring system in the device.
when you walk to the end of the device, the blue area are moisture absorption materials, after this, your shoes sole are totally clean.
All this process, you needn't waste time and Deliberately move your feet.

To provide you the perfect shoes sole cleaning device, It is our pleasure.